The Multichannel Success Podcast Season 2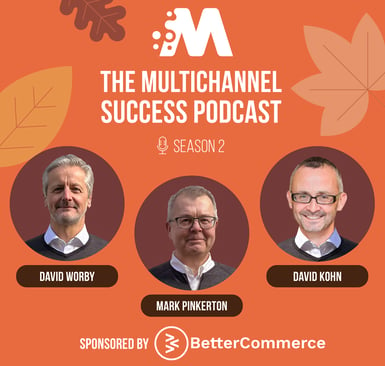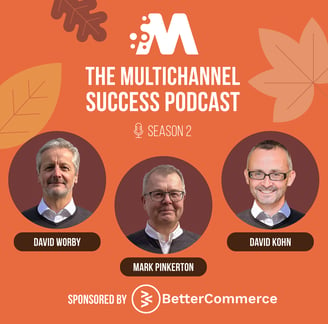 We had some great feedback from you for our first season released earlier this year, so have decided to come back for a second season. As before, we've tried to give you a mix of strategic guidance and real-world practical advice that will help you drive your multichannel success. In addition, we are delighted to welcome a new sponsor BetterCommerce.
Season 2 is packed with more helpful advice and help for your Multichannel journey and contains 6 episodes and more guest speakers
Your hosts for this season were:
Lots of advice and practical guidance.....enjoy
Select your episode from the player on the right-hand side
Below, you'll see a summary of each of the episodes along with a link to each of the transcripts which are available for you to download.
In addition all podcasts are available on Spotify, Apple & Google podcasts.
In Episode 1 - Lowering the Cost of Returns
We're delighted to kick off season 2 with a hot topic - how can retailers lower the cost of returns - what can they do practically and how can technology help. We were delighted to be joined by Peter Hietala the founder of Easycom a solution for retailers that uses a set of CRM principles to decide the optimal returns solution for each customer - listen here or read the transcript.
In Episode 2 - Strategy & Planning
How important is having a holistic digital strategy? What are the component parts that teams need to think about and how does that fit within the wider business vision. Agile vs not Agile, organisational transparency and the creation of a business journey; Mark and David get underneath the key points and provide some practical tips and advice that all can follow - listen here or read the transcript.
In Episode 3 - Understanding Headless/Composable Commerce.
Our hosts are joined by Vikram Saxena - the Founder and CEO of BetterCommerce. Vikram lives and breathes headless/composable commerce and gave the hosts an excellent set of perspectives on the value it can bring to retailers and brands as well as how its components are lowering the CTO for many businesses - it's well worth a - listen here or read the transcript.
In Episode 4 - Improving Culture and Process.
What drives a digital culture? How do you evolve it? .... and what should you do when that culture doesn't sit easily within a wider business? These questions and many are tackled in Episode 4. We also touch on the challenge of optimising processes and how organisations often forget that many of todays processes were built for a different purpose many years ago - listen here or read the transcript.
In Episode 5 - HR The Digital Challenge.
David, Mark & David were delighted to be joined by James Minter from Harrington Tame to get underneath the challenges of recruiting and managing Digital skills. Its widely accepted that tenures in digital and shorter than their non-digital counterparts, so what stresses and strains does this impose and how should it be managed. - listen here or read the transcript.
In Episode 6 - Optimising Digital & Physical
It was great to be joined by Paul McDermott from Matalan to discuss the challenges of both synchronising and optimising on and offline channels. How best should businesses manage the different channels, what content suits which channel and how do you decide? As customers now shop between and with multi channels simultaneously, how do you stitch all this together - listen here or read the transcript.